A Culinary Tour of London's Finest Boroughs
From Belgravia, Mayfair, and Knightsbridge to St. James's and Kensington and Chelsea, these are the finest places to dine in London's upscale boroughs
London is a hot destination for fine dining, but as is often the case in any major city throughout the world, it can be easy to fall foul to hype and choose the loudest over the quietly confident when making a dinner reservation. In Belgravia, for example—arguably London's most exclusive neighborhood—local gems are hard to find among the grand embassy-lined squares, but ask any diplomat where they like to lunch and five-star hotel restaurants come top of the list. It's tips like these that will lead you to the right doors when choosing a place to dine in this culinary capital.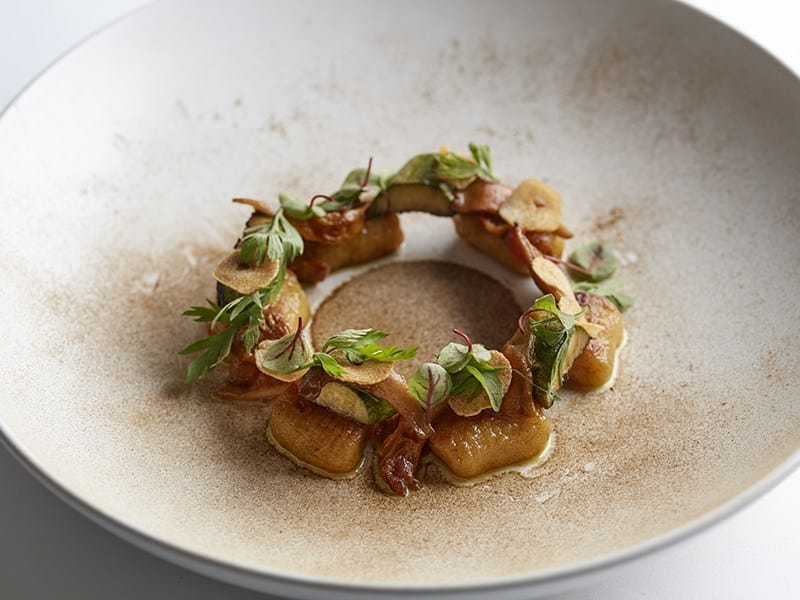 Service more than lives up to its Michelin-starred reputation at Marcus by Marcus Wareing at The Berkeley, and with one of the city's finest wine lists, repeated visits are required. Banner image: Aquavit restaurant
Long a top destination for cocktails at its glamorous Bar Blue, The Berkeley is Belgravia's go-to for discreet business breakfasts and client-impressing five-course lunches at Marcus by Marcus Wareing. This is fine dining with the innovation and flair that chef Wareing has made his stock-in-trade. Quality seasonal ingredients prepared with precision and respect make his menus a beacon for any serious foodie's bucket list. Dishes like slow-cooked egg, Mr Little's Yetholm Gypsy potato, and wild garlic pique the curiosity and the appetite. And a serious vegetarian menu is no second-rate option: here's a mushroom consommé and fregola to start, followed by asparagus cannelloni, tahini emulsion, and ewe's milk, then agnolotti, spring peas, morels, burrata, and olives.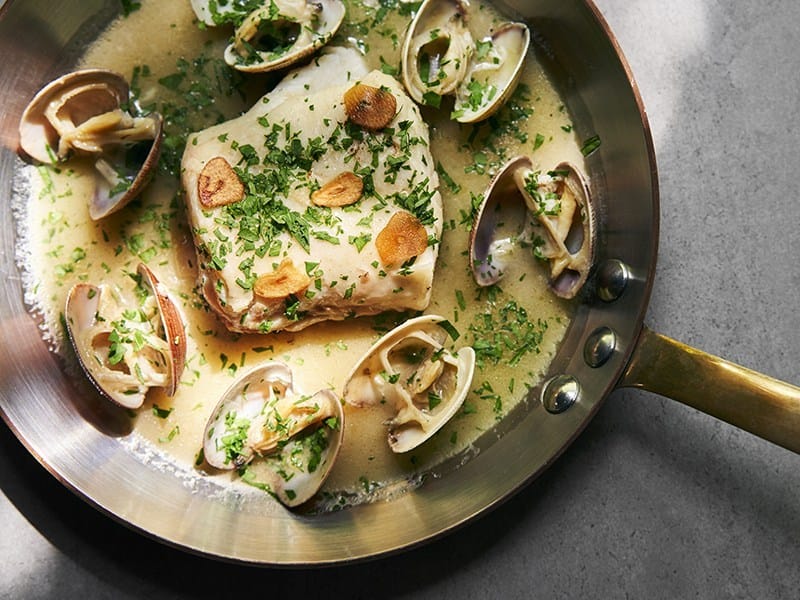 As the London restaurant scene has evolved and Ametsa settled into its new home, so too has the menu and dining experience on offer here. Watch this space for a soft refurb of the interiors, coming soon to match the new menu.
When a trip to Spain's gourmet capital San Sebastián is calling but you're stuck in London, the next-best option is Ametsa—Opened in 2011, it is the definitive place to find high-end experimental Basque cuisine. With relaxed midweek dining more popular among trend-seeking Londoners, Ametsa has followed suit. Moving away from elaborately avant-garde tasting menus, more traditional Basque dishes and small plates have emerged. Everything is designed to be shared, nothing designated as appetizers or entrées, leaving guests to create a meal experience of their own choosing—whether that's a light bite and a glass of wine or a long dinner to linger over with friends. Whichever you choose, be sure to share some cod kokotxas in pil pil sauce or the Cornish hake with salsa verde and clams.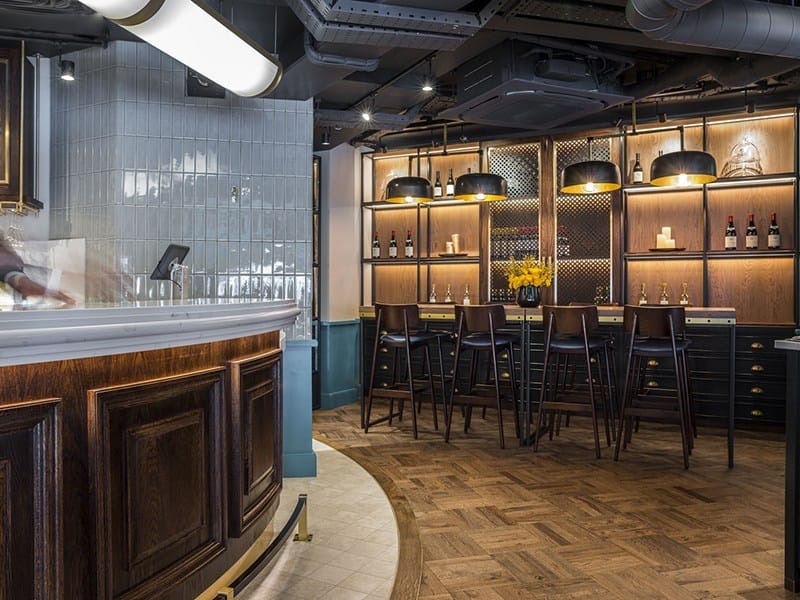 From breakfast to dinner, Sloane Place offers one of the most enjoyable dining experiences to be had in Chelsea.
Healthy breakfasts, a private roof terrace, a newly launched cocktail bar, and a dog-friendly all-day dining room make Sloane Place the ideal neighborhood hangout, right in the heart of Chelsea. Executive chef Bernhard Mayer earned his chef's whites at Michelin-starred establishments around the world, as well as at London's Four Seasons Park Lane and The Savoy. Drawing on his favorite cuisines, chef Mayer has created simple, modern menus that appeal to discerning diners who appreciate healthy, delicious ingredients. Try a breakfast bowl of coconut bircher muesli with mango, blueberries, passionfruit, and pomegranate. A warming baked tofu red curry with tenderstem broccoli, black mushrooms, coriander, and jasmine rice will restore the calories spent shopping the boutiques of the nearby Kings Road.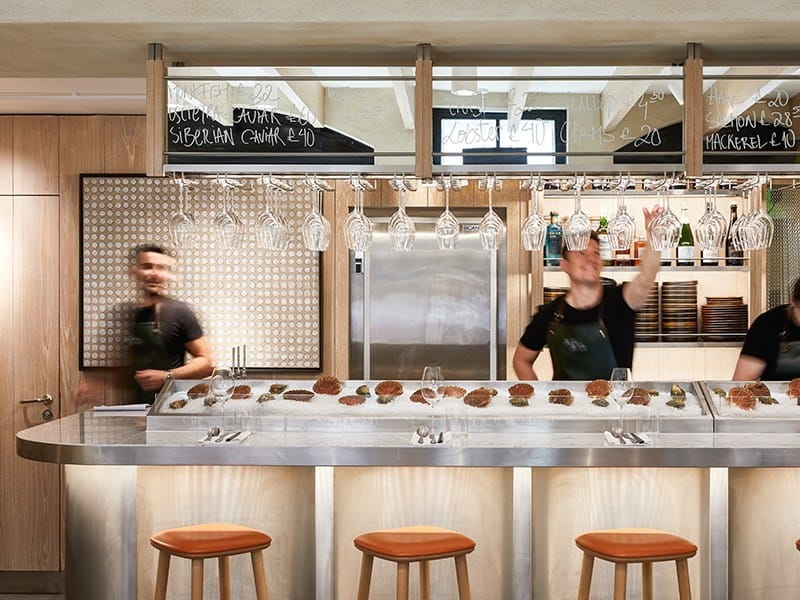 "We don't really 'cook' on site," says Alex Hunter, founder of The Sea, The Sea in London's Chelsea neighborhood. "Our product is so fresh and of such high quality that you don't really want to do too much to it."
"The final piece of the puzzle" is how Alex Hunter, founder of this thoroughly original fishmonger/deli/seafood bar describes its place on Chelsea's buzzy Pavilion Road. Known locally as Edible Trail, the street is a delightful mix of independent food retailers and edible potted plants whose QR codes link to recipe inspiration. Primarily a retail space where the catch of the day is on display until 5.30pm, the fish shop turns into a dine-in seafood bar in the evening thanks to clever convertible tables. Sustainability is key, explains Hunter, who brought in executive chef Leandro Carreira to oversee the careful preparation of premium fish and shellfish. "Around 95 percent of what we sell and serve comes from UK day boats. The rest we source as specialty items that our customers have asked for, like yellowfin tuna from Japan and Alaskan king crab." Expect lots of raw, cured, and lightly steamed dishes—with a nice glass of wine, of course.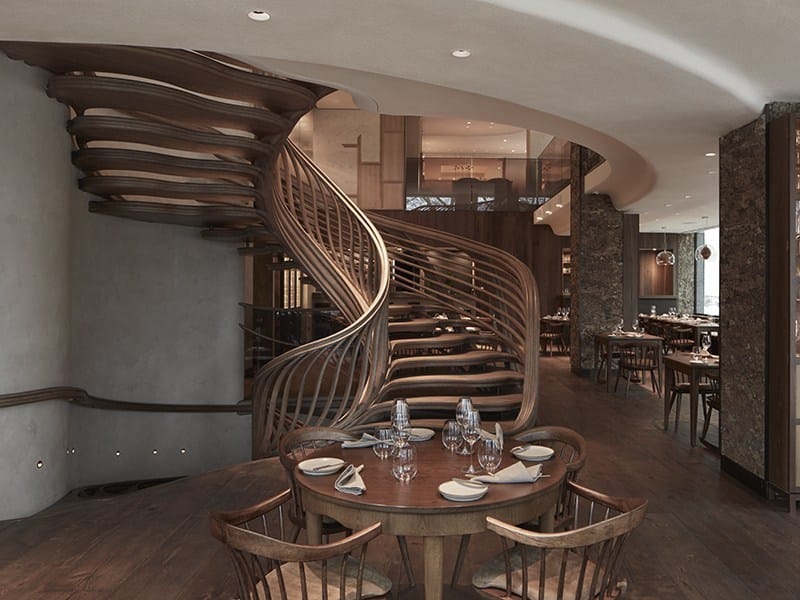 Hide in London's Mayfair feels a bit like a secret, but lets you in on it. And with breakfast, lunch, afternoon tea, and dinner on the menu, there are plenty of Hide secrets to discover.
That staircase. It curves and swoops and seduces and pulls you through this multi-level gourmet playground where London restaurant royalty Ollie Dabbous is clearly having a lot of fun. Diners can choose their own adventure from different floors; Above ("where true hedonists linger"), Ground ("attentive but informal, simple but sophisticated"), or Below for classic and contemporary cocktails. Ingredients are critical for Dabbous, whose brigade's stunningly artful plates make heroes of seemingly simple dishes such as steamed Cornish turbot with lemon verbena and celery. Tasting menus are reassuringly of the moment, including exceptional vegetarian and vegan versions that even committed omnivores would happily choose. In a city filled with choice, Hide plays with the idea by presenting a concept restaurant designed to make everyone feel like they've found their own little slice of dining heaven.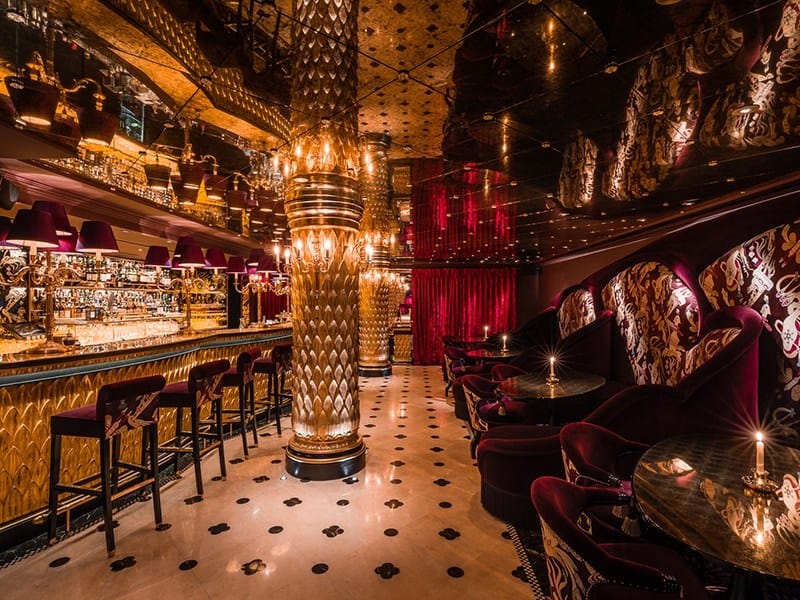 An opulent choice for an opulent outing, Mayfair's Park Chinois is a dress-up kind of place for ultimate indulgence. A place to see-and-be-seen, and for lingering late into the night.
It's impossible not to overstate just how opulent this Mayfair den of decadence is when a trip to the lavatory positively commands you to Instagram the taps: golden swans whose necks crane over elegant Chinese porcelain basins—all infinitely reflected in mirrors all around. But beyond the extravagantly opulent Jacques Garcia decor, the shimmering Baccarat crystal chandelier, the burlesque performances, and the celebrity clientele, there is also a serious kitchen with serious credentials. Executive chef Lee Che Liang sources duck for Park Chinois's signature 'The signature Duck de Chine' from Ireland before it is marinated and traditionally roasted in clay ovens for 72 hours. Rice is sourced from Japan for its taste and texture. Senior chef sommelier Philippe Moranges selects the highly regarded Charles Heidsieck Blanc des Millénaires champagne to match.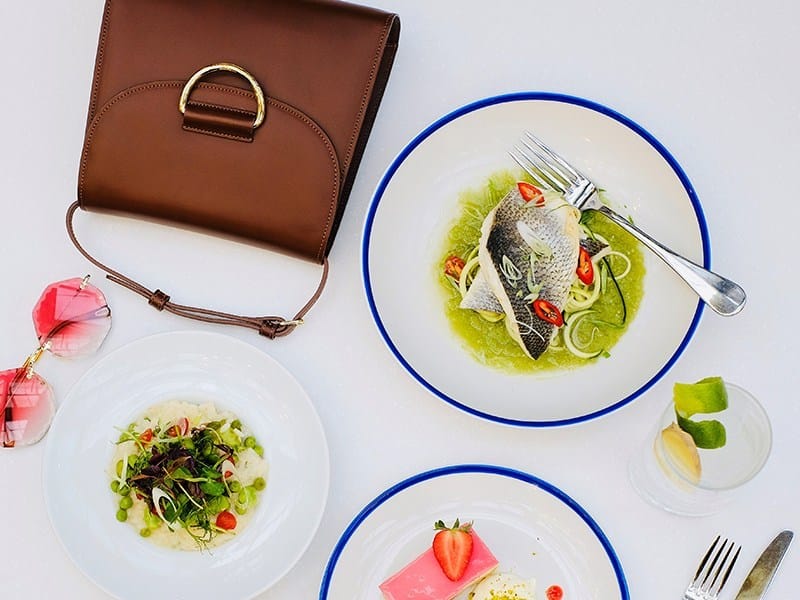 New to Harvey Nichols food offering is Farm Girl, the healthful Australian dining concept now resident on the fourth floor of this luxury retailer in London's Knightsbridge.
Now that the fashion for not eating has fallen seriously out of fashion, where better to top up your wardrobe and your energy levels than at one of London's most iconic fashion destinations? Harvey Nichols remains a magnet for devoted style followers, beauty addicts, and browsers alike. Its Fifth Floor Foodmarket boasts an impressive own-label range, including stylish cupboard essentials and indulgent treats. And the Fifth Floor Terrace continues to attract shoppers stopping for a light bite or drink—and to take in the views over the rooftops of Knightsbridge. New to the luxury retailer's food offering, and just right for its trend-seeking clientele is Farm Girl, the Australian concept café from Melbourne now resident on the Fourth Floor. Tapping into the clean-eating trend (but not fanatically so), the menu features delightfully Instagrammable breakfast and lunch bowls, legions of vegan options, and specialty teas and coffees with optional of-the-moment shots of ghee, CBD oil, and oat and nut milks. So. On. Trend.
One of 11 international outlets of the perennially popular Japanese brand, Zuma's Knightsbridge home is beloved by locals and visitors who need a fix when a robata grill craving strikes. Hip, modern, and instantly welcoming, the main dining room is informal yet theatrical, the fiery grill taking center stage. Described as "authentic but not traditional" the food embraces bold flavors and serves them in the izakaya style—designed for sharing at the table. King crab with ponzu lime butter is like no other king crab you've ever tasted. Duck breast spiced with chilli, ginger, and sake? Do you really have to share it? Then green Chilean sea bass turns up with its green chilli and ginger dressing and your dinner companion fights you for it. Thank goodness there's a Zuma in New York, where you can fight for it all over again.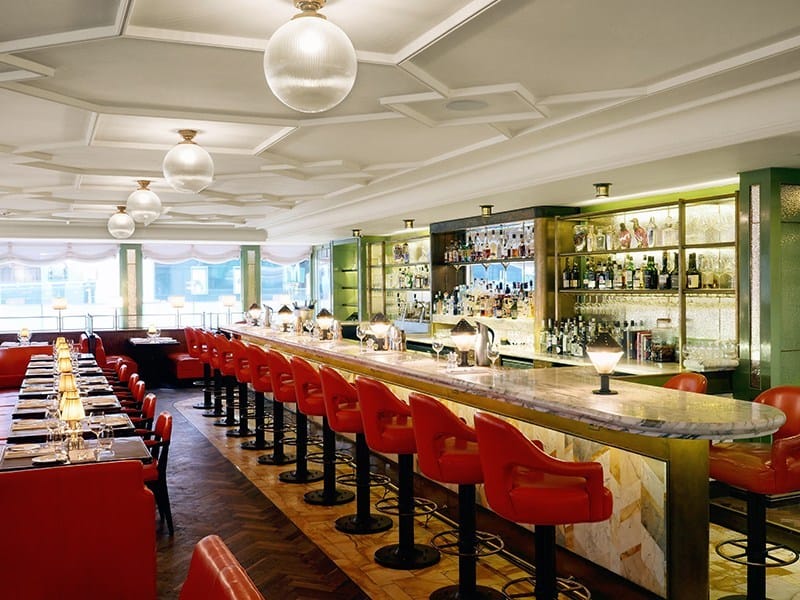 There are really only a handful of places to eat when in central London's St James's Quarter. Buzzing with business breakfasts, late lunches, and after-work cocktails, 45 Jermyn St. has brought new custom to a street previously known almost exclusively for traditional menswear.
On the corner of Fortnum & Mason, renowned purveyor of fine foods, wines, fragrances, and gifts, the restaurant has become a stalwart of central London's social scene. No matter the occasion, enter its corner door and you're greeted like family. The beautiful brasserie-style room welcomes you into curvy, lush, leather banquettes. The extensive seasonally updated menu entices with satisfying light bites (seared scallops, sweetcorn, and chicken skin with lobster vinaigrette) and comforting classics (Dover sole à la Meunière). And during game season, try the grouse broth and liver parfait en bric to get you started, then move on to roasted young grouse served with game chips and a creamy bread sauce. Then ask one of the excellently knowledgeable team to recommend a wine from 45's impressive list.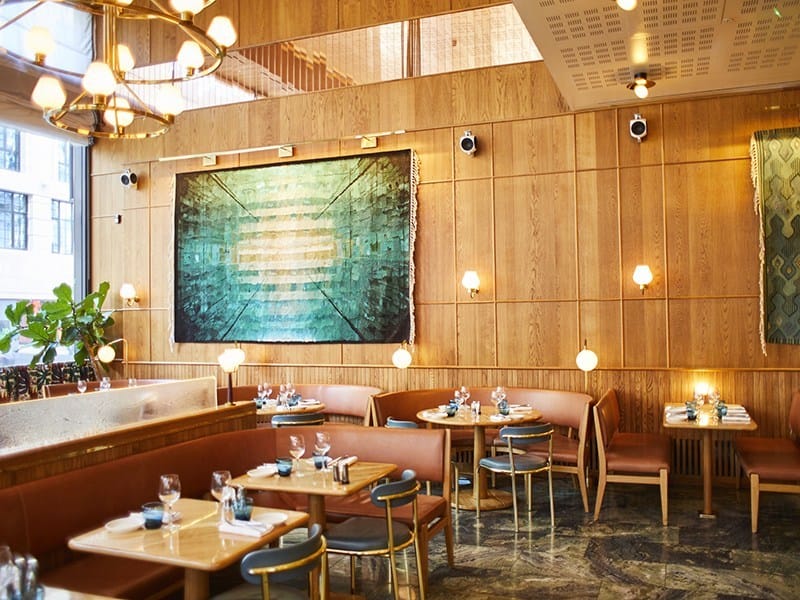 In New York, Swedish chef Emma Bengtsson was establishing New Nordic with Aquavit's first outpost in 1987, and its Michelin-starred venue in London's St James's Market district has impressed critics and diners since its 2016 launch.
Not long after New Nordic cuisine burst onto the global culinary scene, with the likes of Copenhagen's Noma and Sweden's Fäviken at the top of destination-dining "try-before-you-die" lists, the influence of the Scandinavian approach to seasonality, sustainability, and deliciously eccentric restraint would spread far and wide. Aquavit's swanky interiors, by Swedish-born designer Martin Brudnizki, make it one of the city's prettiest, most comfortable rooms, with careful attention paid to lighting, acoustics, seating, and table distance. Cutlery is by Danish silversmith Georg Jensen. Wall hangings are by renowned Danish-Icelandic artist Olafur Eliasson. And the perfectly executed dishes celebrate the Nordic countries' favorite ingredients—venison, fish, berries, pickles, dill—with a deftness of touch that melds tradition with modern presentation in the most natural way. Standout dishes include simple, fresh, satisfying shrimp skagen and traditional meatballs with mashed potato, lingonberries and pickled cucumber. None of which could possibly taste better than with a shot of ice-cold aquavit served from a fish-shaped silver vessel on a passing trolley. Skøl!